High Performance Custom ICF Home
The Goals and Concerns:
The goal for this project was to incorporate high performance building components and to ensure long term benefits of low maintenance and sustainability.  The client's goal was to build an open concept home while positioning it properly on the lot to capture the ocean views on all floor levels of this full time residence. From the footing to the walk out roof, every floor and wall is made with insulated concrete form material to ensure year round comfort in New England.    
Since this is a beach front property, this home had to be built to withstand strong winds, salt air, and moisture.  It was essential for this project to be resilient to natural disasters, and to be soundproof while focusing on efficiency and sustainability.
 The Solution:
Utilize all of the ICF systems available to provide the homeowners with all of the goals and benefits they had on their list.  Amvic Plus Block 3.30 was used for this project.  The 8" ICF was used in the garage and foundation portion, while transitioning to a 6" ICF for the remainder of the walls. After reviewing all the ICF products with the clients, they made a decision to build with insulated concrete forms from the Form-A-Drain footing system up to the Lite Form Deck rooftop, including all AmDeck floors. The end result was a design with significant open interior space completed with large floor spans eliminating the need for supporting beams and posts. In this project we have accomplished durability, comfort, energy efficiency and soundproofing. 
 Some of the details include radiant heat as the primary source of heat in the home, accompanied by a multi-zone mini split system for both AC and heat.  The client is also benefiting from a tankless water heater, better air quality with an ERV system, and enjoying LED lighting throughout the home.  .
 ICF Construction Benefits:
– Soundproof
– 4 hour fire rating
– Natural disaster resilience 
– Lower operational/maintenance cost
-Energy Efficient 
 Client Testimonial: 
N/A
Project name: Three Story Custom ICF Home

Location: Plymouth, Massachusetts

Footing Used: CertainTeed Form-A-Drain
Foundation Product: Amvic Insulated Concrete Forms

R-Value: R-30 with no thermal bridging
HVAC: Radiant Heat & Mini Split Systems with ERV

High Performance Custom ICF Pool
700 Square foot in ground pool with a natural gas heating system and insulated slab, footing and pool wall for maximum efficiency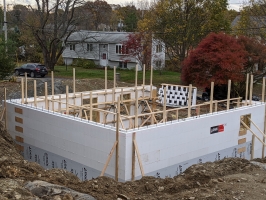 Custom ICF Garage - Hingham, Massachusetts
Our client was searching for a better way to design and build a garage project that would store his premier cars and add value to his residency for years to come.
High Performance Custom ICF Foundation
Logix ICF was used for the garage frost wall and the full foundation to ensure a complete protection from frost and high water tables.

Plymouth County, Norfolk County, Middlesex County, and the Greater Boston Area.
bgbuildingconcepts@gmail.com